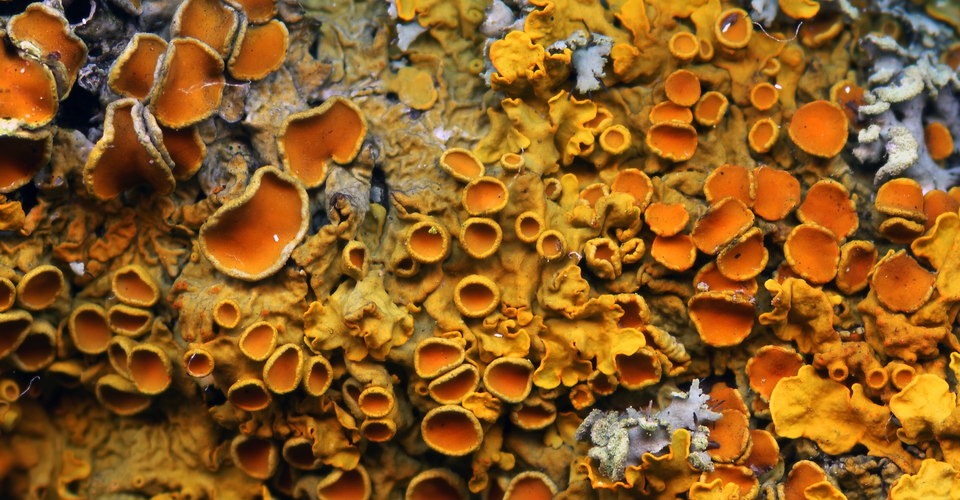 You've seen lichens before, but unlike Spribille, you may have ignored them. They grow on logs, cling to bark, smother stones. At first glance, they look messy and undeserving of attention. On closer inspection, they are astonishingly beautiful. They can look like flecks of peeling paint, or coralline branches, or dustings of powder, or lettuce-like fronds, or wriggling worms, or cups that a pixie might drink from. They're also extremely tough. They grow in the most inhospitable parts of the planet, where no plant or animal can survive.
Lichens have an important place in biology. In the 1860s, scientists thought that they were plants. But in 1868, a Swiss botanist named Simon Schwendener revealed that they're composite organisms, consisting of fungi that live in partnership with microscopic algae. This "dual hypothesis" was met with indignation: It went against the impetus to put living things in clear and discrete buckets. The backlash only collapsed when Schwendener and others, with good microscopes and careful hands, managed to tease the two partners apart.
Schwendener wrongly thought that the fungus had "enslaved" the alga, but others showed that the two cooperate. The alga uses sunlight to make nutrients for the fungus, while the fungus provides minerals, water, and shelter. This kind of mutually beneficial relationship was unheard-of, and required a new word. Two Germans, Albert Frank and Anton de Bary, provided the perfect one—symbiosis, from the Greek for "together" and "living."
When we think about the microbes that influence the health of humans and other animals, the algae that provide coral reefs with energy, the mitochondria that power our cells, the gut bacteria that allow cows to digest their food, or the probiotic products that line supermarket shelves—all of that can be traced to the birth of the symbiosis as a concept. And symbiosis, in turn, began with lichens.
In the 150 years since Schwendener, biologists have tried in vain to grow lichens in laboratories. Whenever they artificially united the fungus and the alga, the two partners would never fully recreate their natural structures. It was as if something was missing—and Spribille might have discovered it.
He has shown that the largest and most species-rich group of lichens are not alliances between two organisms, as every scientist since Schwendener has claimed. Instead, they're alliances among three. All this time, a second type of fungus has been hiding in plain view.
"There's been over 140 years of microscopy," says Spribille. "The idea that there's something so fundamental that people have been missing is stunning."
The path to this discovery began in 2011, when Spribille, now armed with a doctorate, returned to Montana. He joined the lab of symbiosis specialist John McCutcheon, who persuaded him to supplement his formidable natural-history skills with some know-how in modern genetics.